Talk topic: Making sense of the literature
What are literature reviews, and why do people do them, and how can you do one without getting overwhelmed? What are Systematic Literature Reviews, and how do they relate to meta-studies, and are they really as systematic as they sound? This talk answers these questions and more.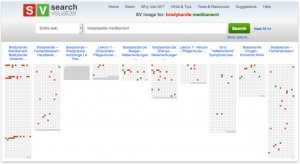 A different way to view the literature: keyword distribution across records for an online search
Talk topic: Academic writing

Why is academic writing the way it is? What is considered good writing or bad writing in your discipline, and why? Why has nobody ever explained the reasons for these and other related issues to you? This talk answers these questions and more, with numerous worked examples. It's particularly intended for students who come from non-academic backgrounds, including industry, and other fields with styles of writing very different from academia.
Talk topic: Beyond the PhD
A little preparation during the PhD can make life a lot less stressful in the closing stages of the PhD. This talk looks at ways of identifying possible post-PhD careers and life choices, and at ways of trying them out during the PhD, so the student can get a better idea of what they really want, and can start preparations for moving in that direction. For example, a few weeks of exchange study with a research centre can help the student find out if that direction is right for them, and can help them build professional networks in their chosen area.
This talk pays particular attention to routes and possibilities which students might never have considered, but which they would love.