Jag Virdie
Jag Virdie is the owner and director of Conker Living, a company that uses best engineering innovations from aerospace and automotive design to create sustainable, efficient, modular buildings and related products. Jag has a distinguished career as a designer in the aerospace and automotive industries; his clients include Jaguar and Bentley.
The Conker building featured prominently at the 2022 Ideal Home Show, where the company exhibition featured a set of modules connected to form a futuristic and eco-friendly home. One advantage of this approach is that a child can have their own modular room while growing up, and can then take it with them as a living space when they leave home.
Much of our work with Jag involves developing systematic ways of identifying and developing design features which people love, but which they would usually find difficult or impossible to put into words.
A Conker building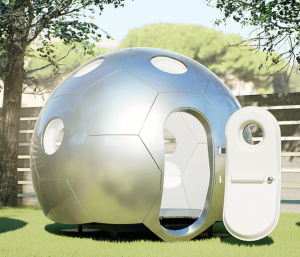 Photo courtesy of Conker Living
Material on this website is copyright of Hyde & Rugg unless otherwise stated.