Amy Martin
Amy is a specialist in handling semi-tacit and tacit knowledge; knowledge that people have trouble putting into words. This was the main topic in her undergraduate project, involving the design of a system for annotating crime scene images in a forensics software system.
Afterwards she was a Research Associate on a Knowledge Transfer Partnership between Keele University and an international engineering consultancy firm, where her role involved finding better ways to help junior consultants achieve the same levels of knowledge as the senior consultants, through their semi-tacit and tacit knowledge.
She is co-author of two peer-reviewed papers, which incorporate work from her undergraduate project:
A like/dislike plot, from Amy's work; fourteen responses to an interface mockup.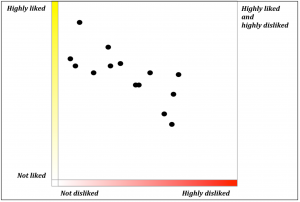 Material on this website is copyright of Hyde & Rugg unless otherwise stated.